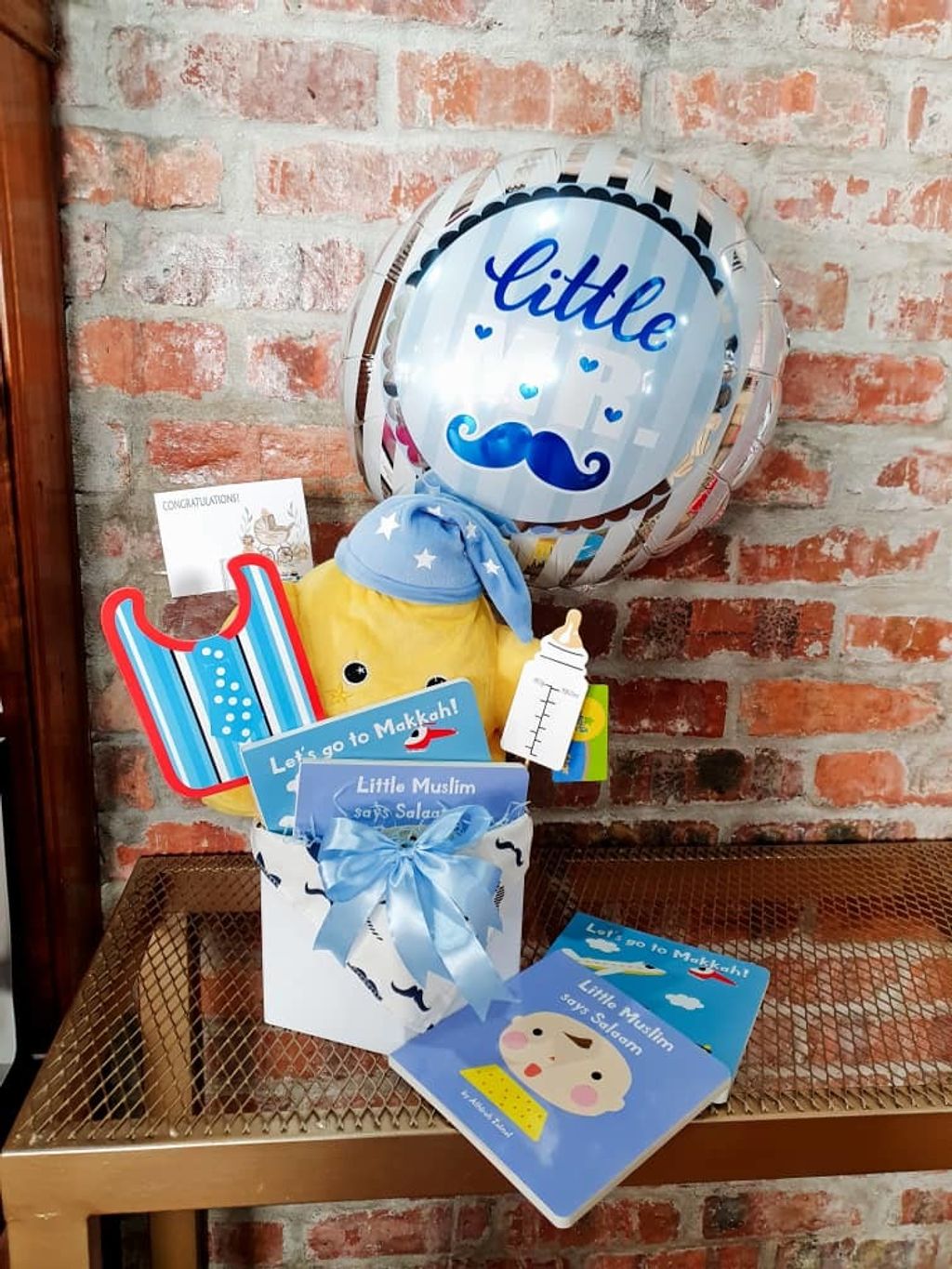 Personalized hamper
1. Hamper price RM 70:-
- The price is for the hamper (balloon and basket) only.
- Doesn't include items' price in the hamper. Items in the hamper are customized. If you would like the same items as shown in the picture, below is the details:
A. Two board books from the following
- Bugs and birds in the Quran
B. One baby bib
C. One soft toy
D. One wish card
Total price of hamper + items in the hamper is RM 115.
2. Please be informed that the above price:-
- Doesn't include delivery charge. Delivery charge varies depending on the location in KLANG VALLEY ONLY.
- Delivery will be done through LALAMOVE service.
Please be informed too that:
Billing address is sender's address while 'shipping address' is receiver's address.
3. Available in a variety of colours. Please state your colour preference in the 'remarks' section.
4. Please write your personalized note for the receiver in the 'remarks' section:-
"From:
Baby's/child's Name:
Wish note in a wish card:
Personalized note on balloon:"
Please contact +60 12-370 5297 for consultation.
---------------------------------------------------------
1. Keterangan mengenai harga hamper RM 70:-
- Harga ini ialah untuk perkhidmatan hamper (belon dan bakul) sahaja .
- Tidak termasuk harga item di dalam hamper. Item di dalam hamper adalah 'customized'. Jika anda mahu item yang sama seperti di dalam gambar, berikut ialah perincian item:
A. Dua board books daripada tajuk-tajuk berikut:
- Bugs and birds in the Quran
B. Satu baby bib
C. Satu soft toy
D. Satu kad ucapan
Harga total hamper + item di dalam hamper ialah RM 115.
2. Untuk makluman, harga total di atas:-
- Tidak termasuk kos penghantaran. Kos penghantaran berbeza bergantung kepada lokasi di LEMBAH KLANG SAHAJA.
- Penghantaran akan dilakukan melalui perkhidmatan LALAMOVE.
Untuk makluman juga bahawa:
'Billing address' ialah alamat pemberi manakala 'shipping address' ialah alamat penerima.
3. Terdapat pelbagai pilihan warna. Sila nyatakan pilihan warna di bahagian 'remarks'.
4. Sila tuliskan nota untuk penerima di bahagian 'remarks':-
" Dari:
Nama bayi/kanak-kanak:
Nota ucapan di kad ucapan:
Nota tulisan di atas belon: "
Untuk konsultansi, sila hubungi +60 12-370 5297
---