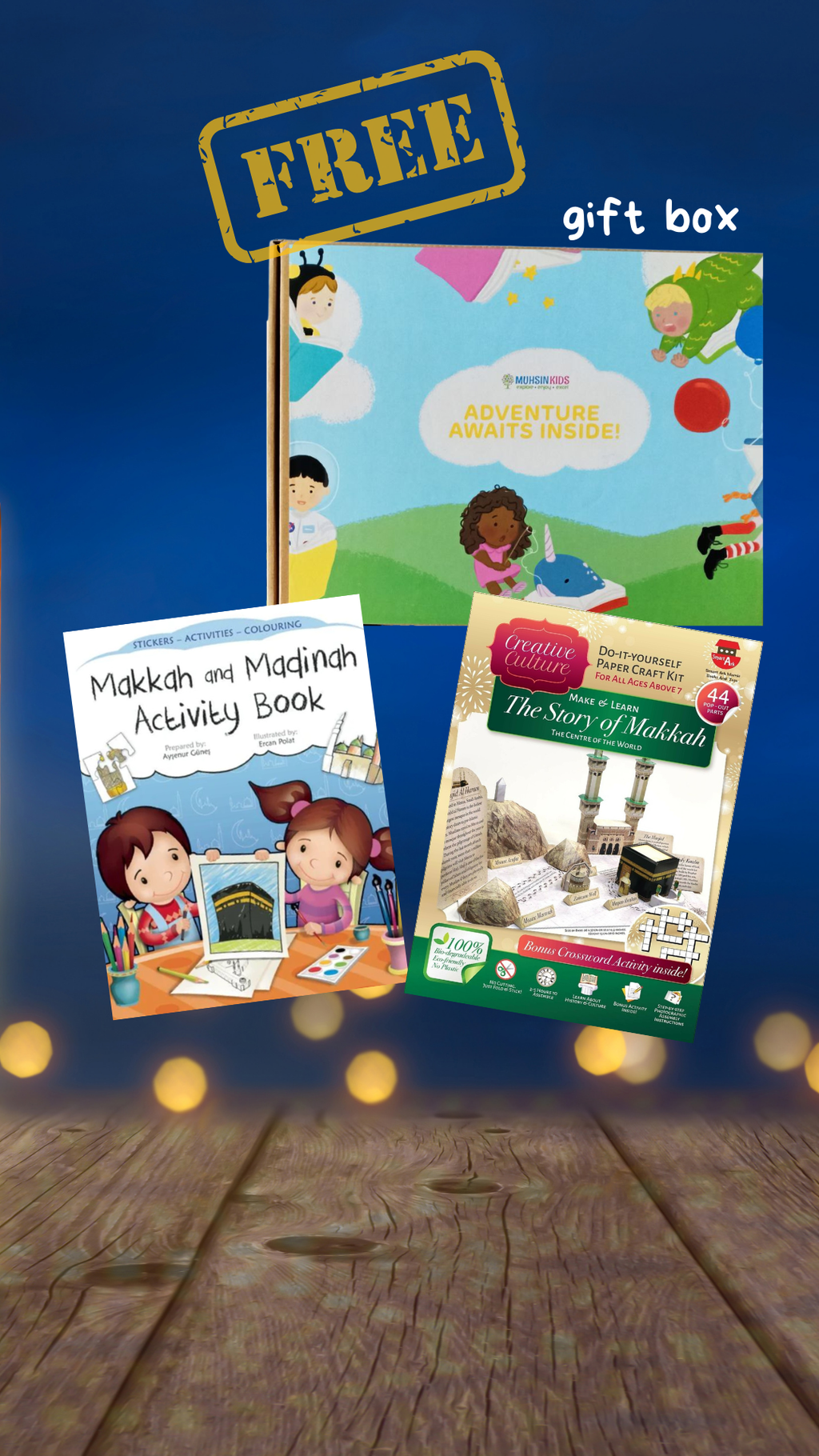 Eid Gift (Makkah Holy Land)
1. Makkah and Madinah Activity Book
Explore the wonders of Makkah and Madinah with this fun sticker activity book. It features dot-to-dot drawings, coloring fun, puzzles to solve, and over sixty stickers to stick.
This book introduces children to the sacred mosque in Makkah, the Kaaba, Zamzam water, the cave of Hira, the Prophet's Mosque in Madinah, and more by taking the reader on a tour that follows the path of a pilgrim.
The Discover Islam Sticker Activity Book Series aims to introduce some important places in Islam and the main actions of Muslims, such as praying and fasting, to young readers. Developed to be fun for a wide readership, these books will be excellent resources to introduce the Muslim faith in classrooms, homes, and with religious groups.
Paperback.
32 pages.
2. Make & Learn: The Story Of Makkah Masjid Al Haram Paper Craft Kit
Learn the story of Makkah, An excellentt way to keep your kids busy with is fantastic Makkah DIY paper craft modol kit, Explains the religious and historical significance of the Makkah and the Masjid al Haram.. A graet way to teach children about the hajj and umrah rights.

You will build:

The Kaba
Safa Wal Marwa
Zamzam Well
Maqam Ibrahim
Mount Arafat

*No Cutting Just Fold And Glue
*Learn About History & Culture
*Bonus Crossword Activity Inside
*Step by Step Photographic assembly instructions.
*100% Bio-degradeable
*Eco Friendly
*No Plastic Used
*Base Size 26x29cm
*Hight of Structure 15cm
*Ages 7 And Above

GLUE NOT INCLUDED
More choice of Eid Gifts, click HERE.
---