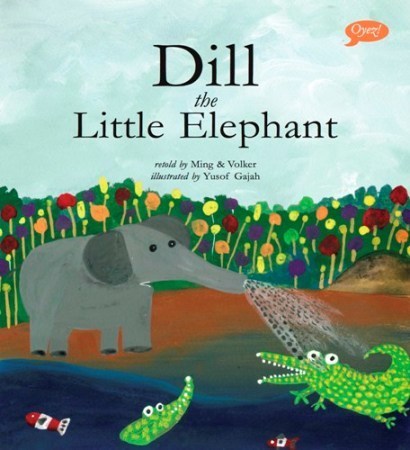 Dill the Little Elephant
When the elephant herd must leave their grazing field, little Dill cannot be found and is left behind. The little elephant strikes out to find his family. He meets two musicians, a frog and a cricket, who invite him to join their band. Along the way he makes friend with musang, a civet cat. He meets a bear and some monkeys who helped him. The journey to find his parents is difficult, but Dill never gives up hope. A touching tale of friendship, determination and resilience.
LINDA TAN or Ming has worked in publishing for more than 20 years. She is an admirer of Yusof Gajah and is proud to be part of the team producing this book. She hopes children will enjoy this story of courage, friendship and resilience.
VOLKER WOLF or Volker has been involved in cultural exchange programmes for 30 years (with the Goethe-Institut). Literature is his passion and he loves to see children read. He finds it a privilege to have been working in a creative team that has produced such a beautiful book on adventure, friendship, social support, of perseverance and love. He believes that featuring Malaysia's flora and fauna in children's books will create interest in natural heritage and conservation among children.
YUSOF GAJAH has a deep and abiding love for children's books and working with children. While a busy artist, he has managed to write and illustrate a number of books for children and have won the National Book Council Award for best picture book and the Noma Concours (ACCU) award for best illustrations. His popular picture book, 'The Real Elephant' was first published in Malay and has been translated into Japanese. Its enduring qualities have enabled an English publication in 2010. He has also created the 'ELEPHABET' which continues to attract both children and adults.
What People Say About the Book?
Mr. Gajah's elephant illustrations are known around the world and I was captivated with the simple pictures and bold brilliant use of colors. I also loved the message of friendship, courage and hope...
Read full book review on Dill the Little Elephant by Vivian Kirkfield, children's book author.
"One day in the forest, a baby elephant was born" – an elephant called Dill who will capture young readers' hearts from the start, as a newborn looking out at them through one intelligent eye. Dill's adventures begin only a few days later, when he becomes separated from his herd. His search to be reunited with his family is a catalogue of misadventure, but at every stage of the journey (bar one, when Dill is teased by a crocodile) he encounters animals who offer help and friendship, even a home – though circumstances always intervene and the journey continues...
Read full book review on Dill the Little Elephant by Mirrors Windows Doors, online magazine and children's books resource.
---