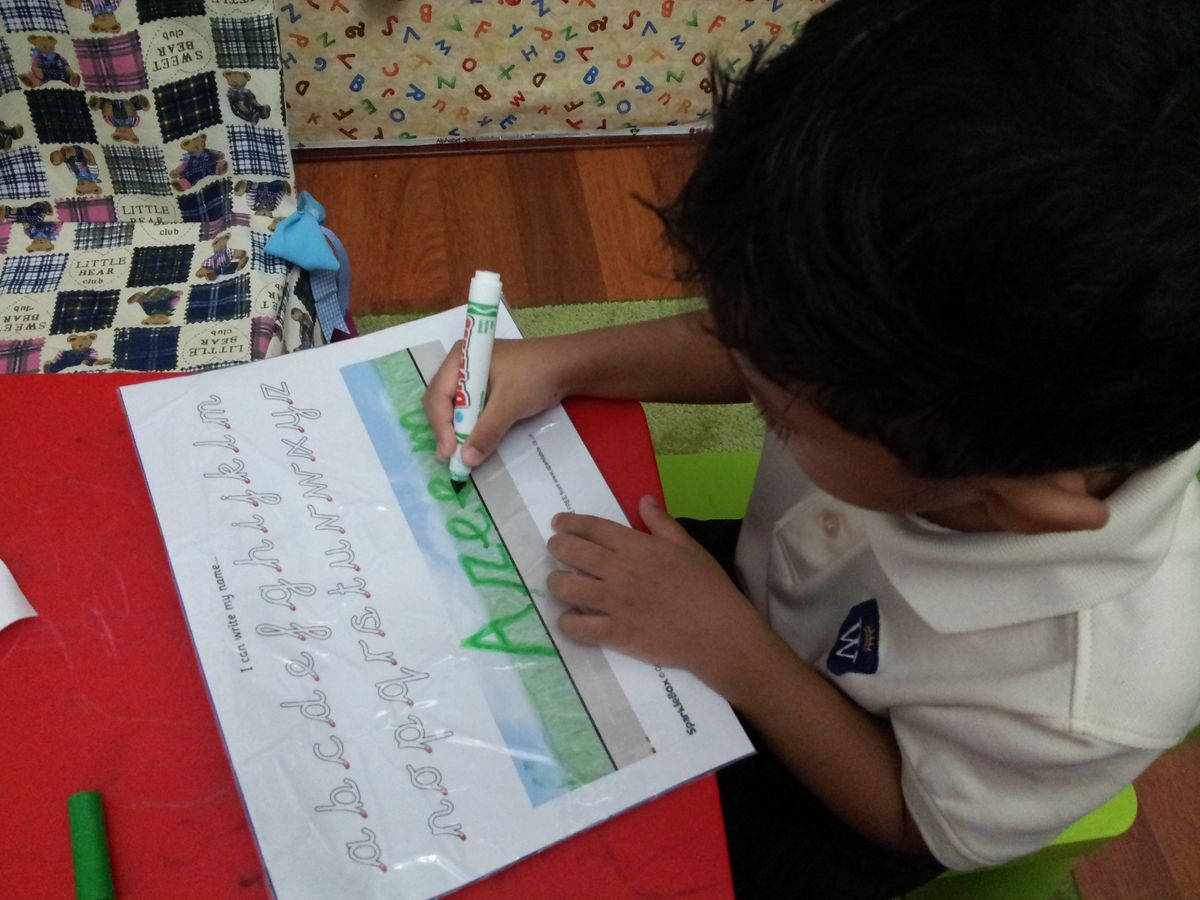 Azeem Belajar Tulis Nama!
Di sekolah Aleeyah dan Azeem, kanak-kanak (sejak berumur 3 tahun) di ajar perlahan-lahan untuk menguruskan diri mereka sendiri. Mereka perlu tukar baju sendiri, pergi ke tandas, uruskan beg dan lunch box, makan dan minum, dan sebagainya. Kesimpulannya, saya lihat mereka mahu kanak-kanak belajar menguruskan diri sendiri semaksimum mungkin, dengan minimum pertolongan daripada orang dewasa.
Kebanyakan peralatan sekolah adalah 'child friendly'
Saya lihat, di antara cara untuk melaksanakan sistem pengurusan diri sendiri ini dengan berkesan ialah – labelkan tempat-tempat dan barang-barang tertentu dengan nama setiap pelajar. Contohnya seperti ruang untuk letak beg dan lunch box di bawah ini.
And guess what, Azeem did not know how to spell his name!! Huhu. Azeem pun belum kenal huruf sangat lagi.. Ni antara kerja terawal Azeem, dia tulis nama dia 'Am'!
Kemudian, saya lihat ada 'tambahan' huruf sedikit, jadi 'Aeem'. Hihihi. Kesian pulak saya tengok. Maka, saya pun cuba 'tiru' cara cikgu dia – buat latihan 'menulis' nama. Setiap pagi (kalau siap awal), Azeem praktis tulis nama dia. Dan di sekolah sudah pasti memang setiap hari cikgu dia buat.
Aeem!!
Sekolah Azeem menggunakan tulisan 'cursive', jadi di rumah saya juga perlu ajar mereka menggunakan tulisan 'cursive'.
Bila nampak dia sudah ada keyakinan sedikit, saya beri galakan untuk dia tulis di atas 'board'. Tulis sendiri, tanpa ada 'dot dot' untuk di'trace'.
SubhanAllah! Alhamdulillah, dalam sebulan, dapatlah dia tulis nama dia sendiri, independently, tanpa bantuan orang dewasa dan tanpa 'dot dot'. Dan sebenarnya dia tak kenal pon lagi huruf tu semua! LOL! Tapi oleh kerana dia tulis setiap hari, dia dah hafal! Dan dalam masa yang sama, bila dia belajar huruf 'e' contohnya, dia pernah cakap, "Mama, this is like my name!"
Isn't it wonderful to see how our kids learn? They are like sponges! Absorb anything we give them.. Lain budak, lain perkembangannya. Saya tak boleh nak bandingkan dia dengan kawan-kawan dia, atau Aleeyah, kerana perkembangan otak masing-masing berbeza. So I keep telling myself – Why worry? Chill and enjoy the moment!
Dan sekarang dia sudah mula belajar Arabic, dan adakalanya inilah pulak yang terjadi! Hahaha
It's OK, take your time, son! May Allah make it easy for you..
This is what we did..
Skil yang diperlukan: Anak boleh pegang pensil.
1. Print page seperti ini. Klik link di bawah gambar untuk download ya:
http://www.sparklebox.co.uk/thumbs311-315/sb313prev.html#.UlL2yVBOKxl
2. Tulis nama anak guna marker.
3. Laminate. Sediakan satu white board marker..
4. Anak tulis setiap hari, guna white board marker. Boleh dipadam, jadi boleh diguna berkali-kali. Tulis sekali sehari pun dah memadai…
Kadangkala, cuba beri galakan untuk anak tulis di atas kertas kosong. Mungkin ada anak yang 'mengelak'. Apa yang saya perhatikan, anak saya mengelak kerana dia kurang yakin, bukannya sebab malas atau apa. Dia tak mahu salah. Maka, saya suka beritahu mereka, "It's OK if we make mistakes. That is how we learn." Kalau tulis satu huruf pun takpa. Terus je praktis..Hihihi
Link ni lagi best, boleh edit dan print terus nama anak!
http://www.sparklebox.co.uk/thumbs316-320/sb319prev.html#.UlL4ZlBOKxk
And they will be super happy to be rewarded with this certificate! InsyaAllah
http://www.sparklebox.co.uk/3351-3360/sb3357.html#.UlL9xFBOKxl
Itu sahaja perkongsian kali ini. Semoga dapat memberi manfaat. Jazakumullahukhairan