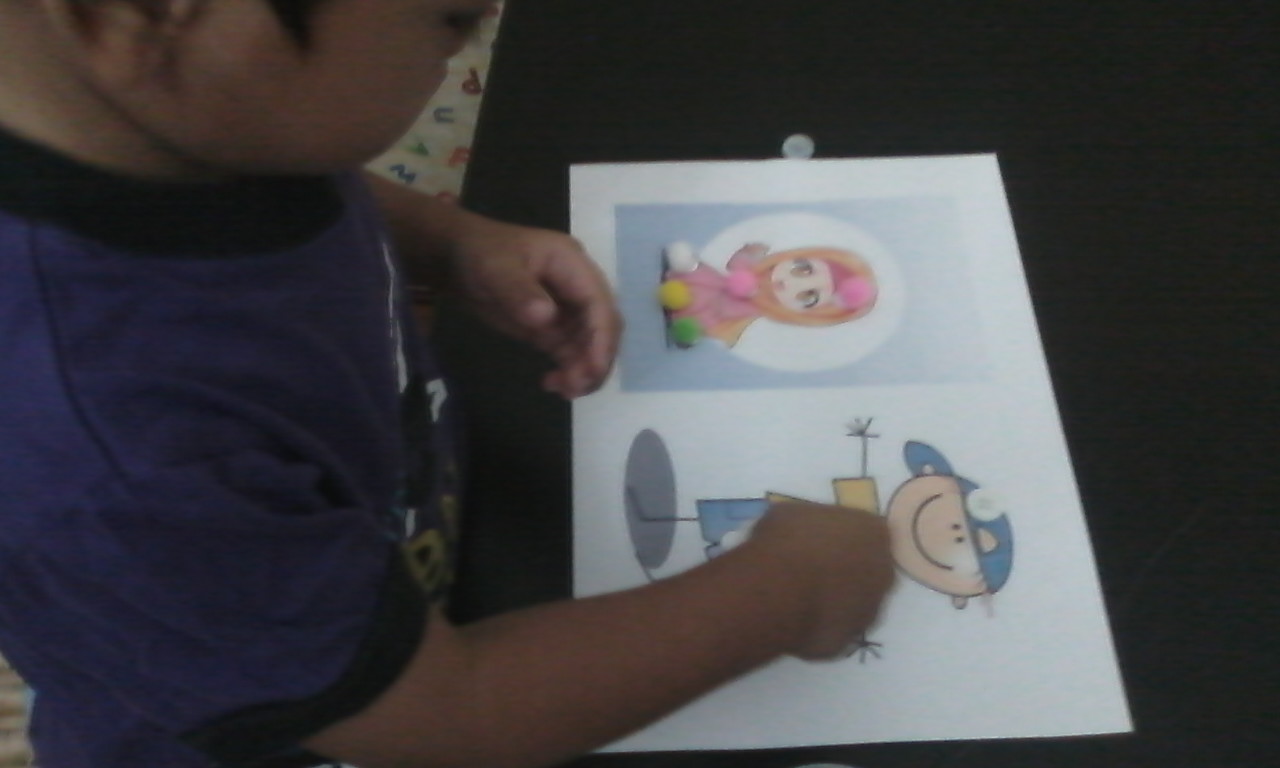 Assalamualaikum again Mothers!
Semalam saya dapat link ni, di Facebook Page Teaching 2 and 3 Year Olds (mashaAllah, a good page to follow. Banyak beri idea untuk buat aktiviti dengan anak-anak):
15+ ideas for using do-a-dot printables to help kids learn
Maka, hari ni saya cuba buat dengan Aqeel.
Saya gunakan apa sahaja yang ada di rumah. Alhamdulillah, saya jumpa:
Bow, butang dan pom-pom.
Saya pun ada print beberapa keeping worksheet daripada link di atas. Tetapi rasa macam tak kena dengan bahan yang saya jumpa di rumah – butang, bow dan pom-pom. Hehehe. Maka saya buat satu worksheet sendiri – gambar budak lelaki dan perempuan.
Saya ambil sahaja gambar dari internet, kemudian 'insert' shape circle.
Kemudian, saya beri peluang untuk Aqeel pilih sendiri, berdasarkan 'logik' yang dia fikirkan. Menarik, sebab dia pilih pom-pom untuk kanak-kanak perempuan, manakala butang untuk kanak-kanak lelaki.
Alhamdulillah, nampaknya Aqeel suka buat aktiviti ni.
Konsep ini penting untuk bina asas mengira. Boleh klik link untuk baca tentang One-to-One Correspondence. Kalau ibu-ibu lihat anak belum boleh buat, tidak perlu risau. Tunjuk sahaja satu persatu ya. Dan yang penting, elak daripada letakkan harapan anak akan faham konsep ini pada satu sesi. Kalau anak dapat faham, Alhamdulillah. Kalau belum lagi, ulang sahaja aktiviti ini pada masa hadapan, mungkin guna worksheet yang lain, sebaiknya ikut minat anak.
Selain daripada itu, aktiviti seperti ini, in sha Allah dapat bantu tingkatkan skil motor halus anak-anak, kerana anak-anak perlu guna jari-jari comel mereka untuk ambil bentuk-bentuk yang kecil tersebut. Mereka juga perlu guna gam untuk tampal dan tampal atas bulatan. Sekiranya ibu-ibu nampak anak 'struggle', bantu ye. In sha Allah, bila anak-anak biasa buat, dia akan dapat buat sendiri tanpa bantuan. Saya letak sikit je dot-dot tu, sebab berdasarkan pemerhatian saya, Aqeel tak dapat nak duduk lama-lama buat sesuatu aktiviti. Ciri-ciri normal untuk seorang toddler.
Lepas tu, saje saya beri satu lagi worksheet (daripada link di atas), yang ada lebih banyak 'dot'. Saja nak tengok 'ketahanan' dia. Tapi lepas 2 dot, dia kata nak main benda lain! Hihi. Jadi saya beri dia buat playdoh pulak! Hehehe.
Untuk toddler, aktiviti perlu ringkas (boleh buat dalam masa yang singkat), dan bersesuaian dengan umur dan kebolehan anak-anak (age appropriate activity). In sha Allah anak-anak kita akan participate. Sekian saja perkongsian kali ini. Selamat mencuba. Check out link kat atas ya for more ideas! Tak sabar nak buat lagi! May Allah make it easy for us.
Jazakumullahukhairan..